Alas, posting pictures took more concentration than I thought it would.
So, I have a new job! For those of you who don't know, I have worked at UCO since August of 2006, and I absolutely love it. The people here are so great. Last week I took a new position as "Field Admissions Counselor". It's a brand new position within the office of Undergraduate Admissions, and they selected me to basically figure out what to do with it! The rundown of it is that I'll be going to our "target" high schools (the schools that have a good amount of students who come to UCO after graduation) and actually be able to admit students to UCO right there, on the spot! It's really exciting because it's something UCO has never done before. However, since we've never done it before we really don't know what kind of response we will get. In my former days as a college student, though, I took a class called Psychology of Persuasion.. so I know how to get them even if they don't want to. :) Right now I'm doing lots of reading and training, and reading, and training (it's a LOT of information). Not only do I have to know everything about admissions, but about recruitment as well! It's so much fun though. I have amazing bosses (both huge "Office" fans) that believe in me and trust me to do a good job. Plus, I HAVE AN OFFICE!!! You don't understand how excited I am about this. AND I have a WINDOW!!! The Advisement Center is basically a cave in the basement of the building, so this is a nice change. It's good to actually feel connected to the outside world.
Here are some pictures from my last few days at my old job..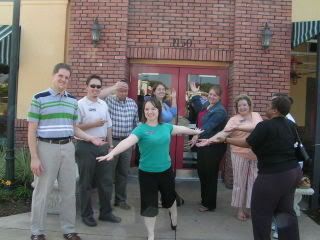 This is me flying away with some of my favorite co-workers out for lunch at Old Chicago.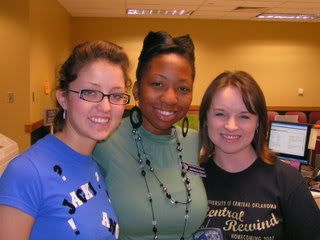 Two of my favorite girls of all time!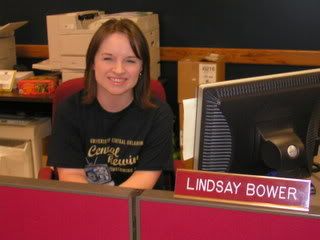 "Dunder-Mifflin, this is Pam."
Welp, I'm off to a recruitment event! I get to go to recruitment events now!!!